RESIDENTIAL WINDOW CLEANING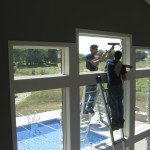 Most people hate dirty windows and know what a chore it is to get them truly clean. We love cleaning windows and are happy to provide this service. We provide both interior and exterior window cleaning.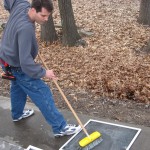 Our most popular is the "Deluxe Window Cleaning" which includes a cleaning of your interior and exterior windows. We also can upgrade this package upon request by doing a deep cleaning of your screens. The wet method, which includes scrubbing with soap & water and then through rinse. Deep cleaning of your sills and tracts is also offered as an upgrade.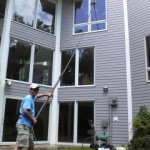 We clean all types of homes everything from smaller condos to large custom luxury homes. Since we have experience with removing construction debris from windows, this enables us to get practically anything off your windows, leaving them clearly clean. If there is concern with your windows such as a cracked window, paint overspray, extremely dirty tracks or something else you would like advise on, please let us know so we can be prepared to bring the right tools or let you know the best option to resolve the issue. We find that most homeowners are just too busy to clean their own windows or perhaps their windows are too high, too difficult or otherwise just a hassle. Please let us help. We want to help

We also have a lot of experience cleaning storm windows. These windows are often found on older homes. If kept in good working condition and cleaned regularly you can enjoy these windows for years and years, forgoing the need to do a costly replacement. The way in which we typically wash these windows is remove the sashes from inside the house, place them on a transportable cleaning easel and clean them with a strip washer and squeegee then detail them with a specialized cleaning cloth called a scrim. Additionally, we either brush out or vacuum out the tracks, wipe the sills and then while the sashes are removed ladder up and clean the double hung glass by use of a ladder and of course clean the interior side of the double-hung glass. Many homeowners are amazed to see these windows done after years of neglect.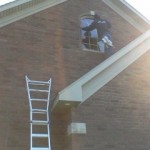 Although heights may pose a problem for some homeowners we have invested in the necessary equipment to clean your windows safely and throughly. We use a variety of tools to clean high windows. Waterfed poles, which use a ionized reverse osmosis system to leave your windows spotless. Also ladders, and common window cleaning poles with strip washers and squeegees. We often choose which equipment we will use based on the type of windows you have, the weather and of course what will have the greatest outcome leaving your windows sparkling clean.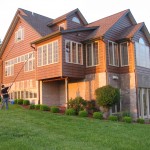 You might wonder, "Where do you start cleaning in my home?" Well often, we start inside by removing your screens, cleaning the interior glass, tracks and sills, followed by cleaning your screens outside and the outside glass. We normally start on the highest floor and work from one side of the house to the other not missing a single pane of glass. From top to bottom. However, if you have an office you would like us to skip or a child sleeping in a certain room by all means we can accommodate your wishes. Just let us know when we arrive, we would be happy to adjust our normal routine if needed. We are easy to work with.
Are you ready to get your project completed?
Call 319.331.7242 now to get it scheduled. Or, get an Instant Quote